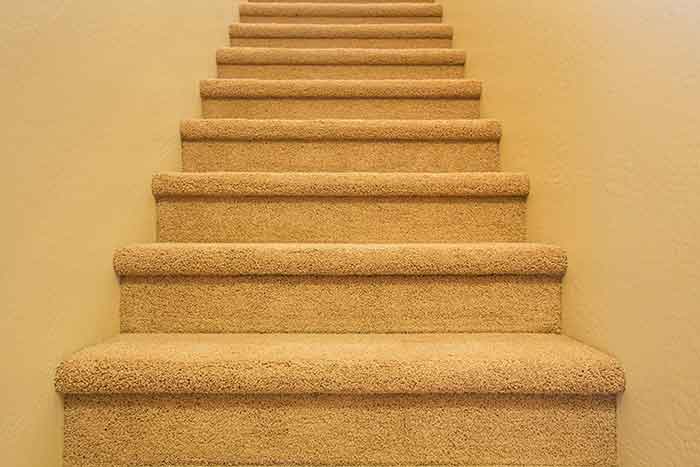 Your stairs can often get the brunt of all the dirt and traffic, more than any other place in the house. If you have a cream or white colored carpet, then you can tell much more readily the use that it gets. If you have darker carpet, then you can get away with a bit more. Whether you have dark carpet or light carpet the question remains the same: how do you get it to remain looking clean? And can it be prevented? Carpet Stretch and Rescue is the leader in carpet repair. We are able to take wrinkles, tears, and stains on your carpet and make it look like new again! However, the questions still remain the same. We want to help home owners keep their carpet in good shape so here are the tips and tricks we have found.
The first step to help prevent any type of stain, wear and tear is to vacuum. Stains and other things are harder to get out when dirt settles in the carpet. The stain then latches onto the dirt making it harder to get out. So, the best thing to do is vacuum. Make sure to vacuum at least once a week if not more. This will help to pick the dirt up, making sure that there isn't anything for the stains to latch onto. It can be a bit daunting to vacuum the stairs so often, but it is well worth the effort. If you have a bristle brush attachment and use this while vacuuming, then you're able to pull up more dirt that has settled in further.
Steam clean the carpet on your stairs. This will get the best results out of extending the life of your carpet on your stairs. This can be somewhat of an awkward pursuit because of it being bulky and having to lug it up and down the stairs but it is well worth it. If you don't have a steam cleaner, then you can rent one from your local Walmart store. They even have an attachment you can get for the stairs. There is a lot of benefit from purchasing your own though, like saving money. You want to regularly steam clean your stairs to prevent any permanent damage from the wear and tear that foot traffic brings, especially if you wear shoes in the house.
Once you've got it cleaned then all you must do is spot clean from time to time in between when you steam clean your stairs. This process will help to make sure the carpet on your stairs is looking beautiful. If you have wrinkles in your carpet though, you'll want to make sure that you clean them after you get your carpet stretched. This will allow you to get to do the best cleaning to your carpet. Call us today for a free home estimate to do carpet repairs in your home!
5-1-2018